Just at the click of a mobile on your phone, everything works and this is absolutely a magic of technology and mobile users love the way their smartphone works and it is happening as a part of their lives. Book a cab, order a meal, buy a flight ticket or even buy a cup of fresh coffee, everything just perfectly works with a click. Mobile app development services in Hyderabad take care of mobile commerce trends to develop most efficient and aptly working apps.
Why is an app so important for users? Is it so trendy that app makes things work much faster? Yes absolutely true. Mobile application development companies in Hyderabad provide most efficiently designed error-free mobile applications for various purposes and this helps in enhancing mobile commerce trends. Because, apps bring great success to the world of commerce.
Apart from business fast-paced sales that occur through apps, it also transitions consumer behavior by enabling quick and fast decisions as they browse through apps for various needs. Nearly 73% of global ecommerce market share is on mobile commerce as projected in 2021 and this is up from 59% in 2017. In the last six months, nearly 79% of mobile users made online purchases using their mobile devices.
However, as mobile trends keep changing, it is important for a vendor to stay updated with the latest mobile commerce trends to use ecommerce tools such as shopify, AWS, and others to use as a platform to sell online.
User shop on apps
Best mobile app development companies focus on developing efficient apps for businesses, with the growing demand from consumers to choose apps over online browsing. Buying online conveniently from an app is much safer and m-commerce is already dominating the global ecommerce market.
Did you know more than half of US shoppers use mobile apps to buy their shopping needs. This is a complete shift from the regular purchases that occur on the Internet. Therefore, having a mobile-friendly website and mobile-optimized ecommerce site is certainly essential to have success and 2021 has become the year of mobile shopping apps. Best mobile app development companies are working on some of the advanced app technologies such as:
Flutter
Java
Python
Swift
React Native
Kotlin
R.Programming
It is also true that mobile conversion rates are very super high driving more sales and customers.
Smartphone and Tablet sales
With the use of smartphone and tablets, more sales are enabled as apps can easily be downloaded and orders are placed as and when required. This is the most convenient feature that customers find it to use.
Single click order placements
If the process of placing orders becomes a cumbersome and time-consuming process, consumers may bounce and they may not be willing to proceed with the shopping cart.
To prevent this, ecommerce mobile apps are developed that orders can be placed with a single click.
Social commerce
Facebook, Instagram, Google ads have become the most convenient way to pick products of choice. As audiences browse through social media sites, when they come across an interesting product for their use in advertising posts, they click and place orders.
Voice over shopping
Voice search has enhanced the demand for the ecommerce market and voice shopping is expected to reach nearly $40 billion by 2022.
Mobile Chatbots
Chatbots are now a regular part of our lives to seek assistance, find answers to questions and even in searching for products. Chatbot technology is already leveraging ecommerce trends.
VR & AR
It is expected that by 2025. AR & VR market is expected to reach up to $35 Billion. Virtual reality brings endless opportunities in techspace. Mobile shopping apps have already begun to use AR to improve customer shopping experience.
Omnichannel Mobile shoppers
Omnichannel retail is about selling products through multiple channels and these are – ecommerce website, mobile app and physical store.
Mobile fraud
Preventing mobile fraud is also one of the major mobile commerce trends to ensure that mobile purchase systems are thoroughly done without any hindrances. Cybercrimes can become a real issue for consumers online and they may even find it hard to share their personal information if the sources are not of reputation and trustworthy.
Mobile payments
Google Pay, Apple Pay, Amazon Pay and may other mobile wallet payments have enabled an advanced feature to process safe and secure payments. Users find it the most easy way to make payments and receive payments. Further, this is fast and quick processing that you can ensure debit or credit of funds in a few minutes.
Conclusion
Android app development company in Hyderabad delivers the benefits of mobile commerce trends in 2021 with the medium of offering highly efficient and effective
Android Application Development Services to businesses in helping their build highly performing and mobile friendly apps.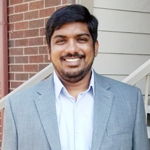 Name: Bharath Kakkireni
Director – KBK Business Solutions
Bharat Kakkireni is a passionate software developer and engineer with over a decade of experience both in India and the U.S. He has been working on many multifaceted IT projects helping local businesses and also collaborates with MNCs in developing software projects. He's an active team leader in KBK solutions. He imparts training, mentoring, and leads teams towards high end efficient working systems. Bharat keeps himself busy in reading, writing and Internet marketing.