PHP (Hypertext Preprocessor) is an open source scripting language which mainly used for web development, and business applications. It can be embedded into HTML for creation of web pages related to web applications, e-commerce applications and database applications. It is mostly recommended programming language for web-based applications because of its advantages over other sources. The main advantages are, it is simple and easy, flexible, fast, and secure. The code is understandable, which is platform independent and connects to the database fast because of it's in built module. PHP frameworks has in built features and tools that provide security threats and attacks by protecting it. The applications based on PHP Development Software helps to perform testing easily. Even the PHP developer or programmers find it is comfortable to write the test cases based on their code. It is stable programming language compared to other languages. PHP supports on various databases such as MySQL, Oracle, Sybase and many more. It is compatible with many servers like Apache, IIS etc.
How to choose a service?
The best way to choose a Best PHP Development Company which reaches your expectations by knowing all the necessities. Whenever we choose a company, we need to come up with the desired features that give you the great outcome.
Check out the portfolio:
Knowing about the company and comparing it with other companies will gives the idea of opting the best service. One need to check the website and its previous customer's websites to know how efficient it is.
Read the reviews:
Customer's review will build the trust to other customers to approach the service. This will ultimately help the consumers to know more real details of the company. So, it will become an added advantage to pick this specific company.
Read Testimonials:
Testimonials will give us the brief information whether it might be positive or negative that would definitely help the PHP service providers to gain the customers. The response from the previous customers can lead the most probable choice for customers to opt this service.
Visit sample sites:
The websites that are previously implemented will attract the customers, and gives them a better view. This will be the best source to draw the attention towards the company.
Visit the company:
Visiting the company make us to know about the staff and the working procedures. Interacting with the PHP developers will help to share your views and plans required for your website. Considering all of these points vividly will ensure to find the best PHP development company.
About KBK:
KBK Business Solutions are one of the leading enterprise providing the best PHP development Company in Hyderabad and it offers many advantages to the customers who are searching for high quality. We have been serving our clients since years with evolving technologies in order expand our business. We also provide other web development services such as WordPress, Joomla, Magento, and Drupal. Our company provides an outstanding offer for those are looking for customized services. We also offer best PHP Development Server for building websites, mobile applications, SEO services, E-commerce website and applications, web hosting services. We suggest the customers to choose PHP by letting them to know the benefits of it. Our main aim to reach the expectations of the customers with highly skilled professionals to give the best to the customers. Our experts will guide the clients with utmost importance that are required for the website and improve the website to gain the customer's satisfaction.
Why to opt us:
Our Company is certified, and we have professionally trained experts, who provide excellent services for startup, SME, and other corporations who are looking for web design services embedded with the best features with error-free and strong customer service support which makes us the best PHP developer in Hyderabad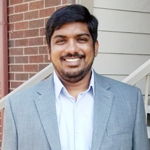 Name: Bharath Kakkireni
Director – KBK Business Solutions
Bharat Kakkireni is a passionate software developer and engineer with over a decade of experience both in India and the U.S. He has been working on many multifaceted IT projects helping local businesses and also collaborates with MNCs in developing software projects. He's an active team leader in KBK solutions. He imparts training, mentoring, and leads teams towards high end efficient working systems. Bharat keeps himself busy in reading, writing and Internet marketing.