We're almost eight months past in 2021 and a lot has already happened in technology as many of the employees and businesses are heavily relying on cloud to do their jobs, due to pandemic and lock down of offices. While some have returned to their offices, others continue to work from home. It is certainly a great experience that is proving to be a great source to learn, and better improve lives in every sphere. But as we are now talking about app development, pandemic has helped many Internet users to rely on apps for their day-to-day needs, purchasing online, buying medicines, groceries, online shopping and even for playing games. Did you know in pandemic period, there was a lot of demand for mobile app development and Best mobile app development companies have been working hard to on the app development ideas?
We are now discussing about mobile apps and you how useful these are for smartphone, tablet, pc and laptop users.
They save a lot of time and in demand increasingly.
With over 3.2 billion smartphone users globally, we can expect a great future and prospects for the mobile app industry. It will continue to grow rapidly.
It is also a fact that the smartphone has a huge market with nearly another 50% of the world still getting ready to purchase smartphones, the penetration for mobile apps is at a steady rate.
An interesting stat is – on an average a phone is checked every 12 minutes and 10% of people check their phones once every four minutes.
Isn't it interesting to know how powerful smartphones are?
Smartphones are part of our lives now.
Well, now how much of time is spent on using apps?
It is stated that nearly 88% of mobile time is spent on apps.
Apps? What are they?
Apps are an abbreviation for "application" and it is a type of software that is installed and run on a computer, tablet, smartphone and other electronic devices.
Downloaded and installed popularly from iPhone store and Google Play store for iOS and Android smartphone users, these are software programs designed and installed safely for users use.
Every app has a specific function to perform.
With millions of apps already available for users usability, what are the best mobile app trends that are trending in 2021?
Let's find out.
These are very helpful for best mobile app development companies, and especially in a city like Hyderabad where some of the top quality mobile app development services in Hyderabad offer their extremely efficient services, it is so much valuable and important to find out what are the latest trends in app development.
Remember we're still in the period of some downtrend in business due to pandemic, but companies are still doing great with their good efforts in encouraging employees to work from home and use cloud technology.
Wearable apps
Similar to apple watch, whatsapp, where you can monitor app with the gadget, wearables can be monitored through apps.
In the near future, our wearable gadgets can be monitored with an app.
Best mobile app development companies
Mobile app development services in Hyderabad
Augmented Reality / Virtual Reality
Augmented and virtual reality have emerged as a powerful technologies and these have appealed and attracted many of the smartphone users which is why businesses are now offering AR/VR impacts on their products and this is also being made available in app development.
Experts say that this transformation forecasts the market size to USD $1,274.4 billion in 2030.
The AR and VR technology trends are totally changing the way in which we connect with each other and take up a step closer to the digital augment space.
Chatbots
Chatbots are proving to be an immediate helpline. Although there is a lot of scope for improvement in making the chatbots easily understandable for the audience, it saves a lot of time for the audience to access the chat bot help instead of waiting for manual human customer service and support.
However, at times, human customer support is also treated as valuable for customers when they fail to get proper answers to their queries from chatbot.
Block chain
Blockchain for business is understood as a ledger that is only accessed by members with permission. With enhanced security and greater transparency, blockchain delivers more business benefits. Reducing paperwork and errors, blockchain reduces overhead and transaction costs.
Internet of Things (IoT)
Connecting devices with the help of IoT technology is yet another uptrend in mobile application.
Some of the top examples of IoT are – IoT Sensors, IoT Tracking and monitoring system etcIoT is widely helpful in manufacturing industry, agriculture industry and healthcare industry.
Artificial Intelligence
One of the finest things that happened in the world of technology is certainly artificial intelligence. People love the way it works on the Internet. The moment you get on with your phone to search for a nearby restaurant or a salon, AI helps you to find it easily. This algorithmic technology is increasingly in use by every industry and business to improve automation, systems and much more.
Cloud-based apps
With the help of cloud-based apps there is very less management effort and service provider interaction. Further, users can customize their in-demand services to match their personal needs and requirements.
One of the best example of cloud apps is – SaaS (Software as a Service) and the other is Infrastructure as a service, which is a virtualized computing infrastructure.
Decentralized mobile applications
Best mobile app development companies work with dapps or decentralized apps which are open source, decentralized in nature, validators of records and algorithm-based. Mobile app development services in Hyderabad offer excellent support for dApp although this is in initial stage.
Conclusion
These top mobile app development trends are going to go high and enable both mobile app development companies and businesses profit from the software and in business automation.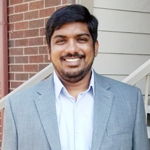 Name: Bharath Kakkireni
Director – KBK Business Solutions
Bharat Kakkireni is a passionate software developer and engineer with over a decade of experience both in India and the U.S. He has been working on many multifaceted IT projects helping local businesses and also collaborates with MNCs in developing software projects. He's an active team leader in KBK solutions. He imparts training, mentoring, and leads teams towards high end efficient working systems. Bharat keeps himself busy in reading, writing and Internet marketing.