Software Testing Services does the job of performing the most important and crucial quality assurance in software testing. This is the most important job without which software products would not receive approval and they would remain unused.
As there is a huge marketplace for software testing services, software development companies in Hyderabad receive extended support for checking the quality and working of various software products designed and programmed by various companies.
Building various software solutions for a variety of purposes, the expectations of its performance are very high sometimes and when each product passes through the quality check process of a software testing company, it comes as a refined and error-free product ready for use.
Sometimes, quality assurance in testing recommends making corrections, improvements and fixing errors.
With hundreds of software products entering the market as apps for smartphones, there is an increasing demand for software testing services to ensure that these are efficiently programmed and work safely.
While the growth in software testing in 2021, it is quite notable to know about the software testing trends. These are:
Agile & Devops
Test Automation
API & Services Test Automation
Artificial Intelligence for Testing
Mobile Test automation
Test Environments and Data
Integration of Tools and Activities
The use and advantage with software testing has doubled in this pandemic period as remote meetings and work from home has grown increasingly.
Therefore, IT workers have been using meeting software on a daily basis and this has given a greater demand for quality assurance in software testing.
Now let's see some of the top meeting software that is proving to be a great source to work from home.
Goto Meeting
Mobile-friendly Goto Meeting platform allows easy video conferencing on Android and iOS support phones.
Along with the mobile platform, it also supports conferencing on the web.
Connecting laptop and tablets, it allows you to connect with friends and coworkers. With the basic free package, you can get the necessary features for essential operation.
The premium package also brings more benefits.
Cyberlink Meeting
The Taiwanese software, CyberLink is a smart program which is browser-based video conferencing application.
It supports all the requirements of smaller enterprises and this program uses the VOIP system to operate.
With a basic free package, it allows you to conduct a meeting with 25 people with a time limit up to 30 minutes.
Both the premium packages of services with Pro50 and Pro 100, nearly 50 to 100 people can attend the meetings.
Zoom Meeting
You know zoom meetings were of immense help in this pandemic period. Nearly 100% of its benefits were experienced by small and big business enterprises apart from individual and family virtual meetings.
With the big advantage of uninterrupted connections, zoom meeting software went viral in pandemic period among the millennial community.
There were family and friend get-togethers, weddings, celebrations and many other apart from remote meeting business conferences.
They were of highly big benefit for many countries.
It uses free VoIP service for operation.
Holding up to 100 participants with basic features you can hold a session up to 40 minutes with these basic features.
Key features are:
Dedicated dial-in numbers for global participants
Works with link and allows anyone to join the meeting with the permission from the host
Enhanced collaboration with virtual-hand-rasing
Polling and Q&A for group discussion
Seamless connection through high compression technology
Workspace collaboration across mobile and desktop users
Virtual backgrounds for a professional look
Searchable transcripts and recorded video of meeting sessions
Driving mode for iPhone users.
Blue Jeans
Blue Jeans remote meeting software works with futuristic touch. It offer high-quality video and comes with cloud-based video conferencing technology.
As compared to other remote meeting software, it has limited features and these include 30 days trial period, entry-level price of $9.99 and premium service at $13.99 and carries the benefit of hosting up to 75 participants and records up to 25 hours of sessions with it.
Google Meet
Software testing company highly recommends using Google Meet. Accessing it directly from G Suite office, the top benefit of this conferencing system is security. As compared to other applications, this application security system is absolutely safe and it cannot be hacked.
While all of the discussions remain secure and safe, it satisfies the business standard conferencing requirements and works perfectly with less expenditure.
Key features of this platform are:
Easy interface for all participants
Highly supportive tool for smart meetings
Extends device support across all platforms
Integrates with social media applications
Administers as smart moderation tool
Cloud-based recording and download facility
Connects seamlessly with other Google products
Affordable price for businesses
A top-class encryption system offering privacy protection
Dedicated dial-in numbers and pin for authorized access
Lifesize
Are you looking for remote meeting software? Checkout software suggest's list of remote meeting software solutions.
Thanks to Lifesize application, a new high-resolution 4K video conferencing software that is absolutely free to use for the first six months.
During this trial offer, you can hold meetings with at least 25 participants and it also offers dedicated desktop and mobile apps for easy access.
Some of the key features of this platform are:
High-definition meeting room experience
Easy interface for non-technical users
Secure collaboration for content sharing
Affordable subscription fees for small businesses
Simple integration with other conferencing application
Skype
Are you connected on skype? This is one of the best free and top preferred remote meeting software and skype has been the oldest owned by Microsoft.
You can access it live and this has proved to be the most reliable software for remote meetings.
Just by adding email and phone number, with wifi connection, you can access anyone globally and have an audio or video call.
For businesses and personal meetings, skype is most reliable.
There are both free and premium versions where you can add nearly 50 people to a conference.
Some of the top features of Skype are:
Highly reliable platform for meetings
Facility of dial-in number for secure access
Live subtitles display on the conference window
Native desktop and mobile app for all devices
Cross-platform support
Certainly, this is one of the best remote meeting software to work with as it gives some of the best online features, the right space and ability to collaborate keeping the work highly functional Software Testing Services with no limitations for geographical barriers.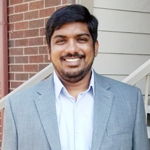 Name: Bharath Kakkireni
Director – KBK Business Solutions
Bharat Kakkireni is a passionate software developer and engineer with over a decade of experience both in India and the U.S. He has been working on many multifaceted IT projects helping local businesses and also collaborates with MNCs in developing software projects. He's an active team leader in KBK solutions. He imparts training, mentoring, and leads teams towards high end efficient working systems. Bharat keeps himself busy in reading, writing and Internet marketing.