Are you excited to know more about WordPress development services Hyderabad? With nearly 41 percent of the web occupied by WordPress, this open-source software is extremely popular and leads the majority of the CMS market share followed by Drupal and Joomla.
With no code experience, WordPress website is most user-friendly and it is easy to work with. Setting up a website with the help of WordPress website company is very easy and can be done in a few hours.
The only requirement is to register a domain name and hosting.
Did you know the success factors and advantages of WordPress?
WordPress website development services offer plenty of scope to improve and add great features to your website as it has lots of goodies packed to extend the lifespan and efficiency.
It makes the job developers much easier and smooth.
The WordPress APIs make it possible for you to create plugins to extend WordPress working efficiency. Creating a plugin is so easy and you can choose it from the available and use it from the plugin repository to host it on.
Creating WordPress themes for clients, WordPress users or for yourself, it provides high extensibility to create themes as simple or complex as per your wish. Picking these from the theme repository is easy.
WordPress Framework can help you to build applications and they work in translations, user management, HTTP requests, databases, URL routing and much more.
WordPres comes with default content types, but bring a lot of flexibility, so that you can add a few lines of code to create your own custom post types, taxonomies and metadata.
The latest script libraries like jQuery, Plupload, Underscore.js and Backbone.js.
Serving as both information and marketing tool, WordPress can also work as a CRM and CMS platform with proper tool integrations.
It hosts full-fledged applications and powers some of the big companies in many sectors.
Building your unique brand with custom-built plugins and themes is achieved in WordPress.
When you plan to make changes to your themes, that's when you need custom plugin coded for your website.
Custom functional plugins are very handy when you plan to change your site's design. Here, let's also see how we can choose a custom wordpress theme?
As you know a WordPress theme goes a long way to determine the available features, functionalities and limitations to your website.
Especially, while working with WordPress development services Hyderabad, you keep some of the specifics in your plan to provide you with the necessary features and functions that give your website a top design and brand identity.
To know that your website is your marketing solution, you are required to hire WordPress website development services and also hire digital mode marketing services for long-term marketing benefits.
Your WordPress website is your complete marketing solution for your business. With over 50,000 plugins, implementing a marketing strategy through your WordPress website is much easier and simpler.
From tracking website analytics to testing headlines and building landing pages, WordPress plugins offer a huge advantage.
There are many ways to improve your website with some of the top digital marketing techniques to grow your business.
Digital marketing strategies help in improving rankings, generate qualified leads and sell your products and services.
Using the appropriate tools and the right CMS platform like WordPress can prove a lot of advantage to you as WordPress is an open-source software that can be self-hosted.
WordPress also gives an advantage of a flexible CMS platform which can be used in eCommerce and portfolio blogging.
Following some of these scalable WordPress solutions can also help you in achieving success in your business.
Choose a Responsive Theme
Responsive themes like OceanWP, Elegant, ThemesKingdom, Astra and Elegant enable the availability of many plugins that can make your website much more responsive.
Content Creation
Content creation and content optimization is equally essential to be able to make your website visible on search engines.
Optimized content is essential for brand awareness and marketing.
Some of the popular SEO plugins in WordPress are – SEMrush, Yoast SEO and All in One SEO.
Optimize Images
Experts say an image is equal to 1000 words. But if images are not optimized, it may slow down your website and affect SEO.
You lose your business.
Adding high quality images by using Optimole or Imagify can compress the images and make them more visible in search engines.
Offer a demo
Does your website offer a free demo?
Great.
This is something that every visitor would like to have from your website.
A plugin Demo Builder or WordPress Demo Builder Motopress can create the most compelling demo for your product or service that offers complete satisfaction to your customers.
Add SSL Certificate
WordPress website design company
WordPress web development company helps you to website's security with SSL certificate. This certificate encrypts the data such as credit card credentials, data transfer and login details of customers when they enter on your website.
A SSL certificate makes your website much more effective and secure apart from improving search engine rankings. It protects your website from security threats and also creates an environment for site owners and consumers.
Visual content
Visual content can be images, infographics and presentations. Nearly 91% prefer visual content to written content.
WordPress website development services offer specialized service in working on visual content to improve brand awareness, website traffic, conversions and customer engagement.
NextGen Gallery, PageBuilder, WPEdit and Live Composer allow you to create and add visual content to your WordPress website and this inspires customers to know more about your business and your products.
Did you add CTA to your website?
WordPress web development company ensures CTA (Call to Action) that helps the audience to sign up, fill a form, download a free source or buy products.
WordPress development services Hyderabad works on some of the best CTA buttons to encourage and inspire the audience to take action on your website. Some of the powerful words for CTA are – Start your trail, Let's talk and Let's do it.
For More Info : Why WordPress Is Best Platform For Your Business Website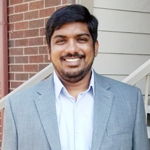 Name: Bharath Kakkireni
Director – KBK Business Solutions
Bharat Kakkireni is a passionate software developer and engineer with over a decade of experience both in India and the U.S. He has been working on many multifaceted IT projects helping local businesses and also collaborates with MNCs in developing software projects. He's an active team leader in KBK solutions. He imparts training, mentoring, and leads teams towards high end efficient working systems. Bharat keeps himself busy in reading, writing and Internet marketing.