A great looking website is all you need and to achieve this, you spend good time with WordPress website design company to understand more about WordPress services. Content Management System allows you to create, manage, modify and work with your website on a daily basis without having a need to understand about CSS or HTML coding skills.
The three top leading CMS today are:
In terms of practical perspective, you look for some of the best benefits while choosing CMS as per your convenience and these are:
How much do I have to spend on my website? This may be the first question that you ask your WordPress website development company.
But it is important to note that WordPress, Joomla and Drupal are the best CMS available and these are 100% free in itself.
It can be downloaded for free from the official websites.
But there are other costs involved and these are domain name and web hosting.
A domain name is your website address that is available on the web. Buying and maintaining your domain online costs as per the fixed fee that may range between $15 and above annually.
Web hosting set up is a source where your website is hosted where your visitors can access it. Hosting fee starts at $3 per month.
Building your website on any of these best CMS platforms will cost the same in both domain name and hosting.
Though the CMS platforms are free to download, users may have to extend features for your CMS with extra plugins, designs and modules. These may cost extra.
Themes are also available at an affordable cost.
WordPress themes are available upto $250
Joomla themes are available up to $200
Drupal themes are available up to $80
Your selected CMS fit perfectly within your budget except that you may have to pay extra to buy add-ons whenever you wish to add additional features on your website. Otherwise, you just have to pay the minimum.
Popular CMS
Which is the popular CMS? Is it WordPress or Drupal? WordPress is used more than 35% of the entire web and one in every three websites you will find websites running on WordPress. Joomla is only 2.7 and Drupal is only 1.7%.
A content management system (CMS) is a dashboard that allows you to easily manage and maintain your website. You can choose WordPress services of WordPress website design company. They have the expertise to design your website depending on the category of your business.
WordPress Web Development Company can help you with adding content, site design elements, add blog posts and any other special pages.
Most highly in demand CMS is WordPress and this is a huge blogging platform with millions of websites already being popular as WordPress website development services.
About Drupal
WordPress development services Hyderabad also find another helpful CMS as Drupal and this is another open source project, which may not be popular as WordPress, but it allows a higher degree of flexibility for creating websites.
WordPress website development services ensures to have a team of web developers in Drupal. Some of the top highlights of Drupal are – it is free to use, easy CMS to understand and there are many themes available for use.
However, Drupal requires technical knowledge, and adding themes is not easy. Basic coding knowledge is required to add posts and updates are difficult to work with.
Easy to work with – WordPress
As compared to Drupal, WordPress services are much easy to work with. Both in terms of website design and user flexibility, WordPress website design company highly recommends WordPress themes. Further those who do not have previous navigation experience of WordPress can also easily start to work with their website.
Therefore, WordPress Web Development Company helps small to large businesses to choose WordPress website development services for the wide and extensive benefits available in WordPress. Further the renewal fee and maintenance costs are also very affordable.
Conclusion
WordPress development services Hyderabad offers excellent professional CMS services exclusively for startups and those who plan to make improvements in existing websites designed in WordPress. Apart from easy to work with, the expanding functionalities, customization, designs and other technical functions are quite simple to work.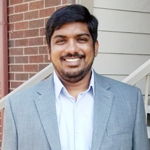 Name: Bharath Kakkireni
Director – KBK Business Solutions
Bharat Kakkireni is a passionate software developer and engineer with over a decade of experience both in India and the U.S. He has been working on many multifaceted IT projects helping local businesses and also collaborates with MNCs in developing software projects. He's an active team leader in KBK solutions. He imparts training, mentoring, and leads teams towards high end efficient working systems. Bharat keeps himself busy in reading, writing and Internet marketing.