First launched by Don Norman in the 90s, UX or User Experience has been gaining prominence steadily and certainly, you have heard the term in many recent conversations. UI or User Interface design is not the same as UX. Development company in Hyderabad UI refers to the interface of a product such as – visual design, user navigation on a mobile app, buttons on a website etc., UI is all about colors, font selection, animation, navigation areas etc., UI and UX work together and it lays a huge impact on the overall experience.
When it comes to aspects of UX design, it is everywhere – the layout of a supermarket, usability of a mobile app or a website, you see it in every framework of the Internet.
But, how does UX or User experience work? It refers to the product or service. UX design clearly works on each element that shapes user experience and their interactions with the product.
Such as in – how they feel, their convenience, accessibility, understanding and ability to work with it and any other. That is to explain, when a product is in your hand, how does it make you feel?
You should feel the virtual reality and experience the reality of a physical product. That is the goal of the User experience. This kind of experience is delivered to a user on a website or a mobile or any other, sends a perfect user experience solving their problems and empowers them to make decisions online.
The checkout process during online shopping is mostly attached with User experience. The final goal of UX design is to create an easy, efficient, relevant and pleasant experience for the user.
"User experience encompasses all aspects of the end-user's interaction with the company, its services, and its products." -Don Norman, Cognitive Scientist & User Experience Architect.
The primary objective of UI and UX design is to combine market research, product development, strategy and design to deliver seamless experiences. Working intermediary between business and customers, it helps in better understanding of customers, their needs and expectations.
UX designers work on market research, product development, strategy development and design.
History of UX Design
Dating back to 4000 BC referring to ancient Chinese Philosophy of Feng Shui, it lays a special emphasis on arranging the proximity in a user-friendly manner. There is also evidence in 5th century BC, Ancient Greek civilizations designed their tools and workplaces on cognitive principles.
This affirms the fact that UX is much older in its theory. But in the late 19th century, greater thinkers and enthusiasts began to experience the designing principles and their production processes, to make human labor more efficient.
Frederick Winslow Taylor, an industrialist and Henry Ford, Founder of Ford Motors began their work on integrating basic experience design principles into their production processes.
UX in Technology Era
In this technology era, UX has emerged as a broader term and is categorized into four main disciplines. These are – Experience Strategy (ExS), Interaction Design (IxD), User Research (UR) and Information Architecture (IA).
Let's find out more about UX disciplines.
Experience Strategy (ExS)
To bring value to a business product or service, UX design is used. Experience strategy is about crafting a holistic business strategy, incorporating both customer needs and of the company.
Interaction Design (IxD)
Development company in Hyderabad works with interaction design and explains it as to how the user interacts with a particular system. With the interacting elements like – buttons, page transitions and animations, interaction designers seek to create most intuitive designs that allow users to carefully complete core tasks and actions.
User Research (UR)
UI and UX developers understand User Research (UR) as – to identify a problem and design the solution. With extensive research and feedback from existing customers, UX designers launch surveys, conduct interviews, usability testing and create user personas to understand the end user's needs and objectives.
Development company in Hyderabad collects both qualitative and quantitative data to make good design decisions.
Information Architecture (IA)
UI & UX design explains Information Architecture (IA) as the practice of organizing information and content in a meaningful and accessible manner. This is most crucial for helping the user in order to navigate through a product. UI and UX design services first acquire an understanding of the relationship between different sets of content. It is also important to pay close attention to the content language used to ensure that it is both convincing and consistent.
Now you know why UX continue to be a leading requirement for businesses. Identifying and solving user problems is fully accomplished with UX and with UI, design becomes interactive, intuitive and pleasing to the audience.
UX comes first in the process of product development followed by UI. It's similar to designing a map for a journey by the help of UX and filling it with visual and interactive elements with UI. UX is relevant to product, service, or experience and UI is exclusive to digital products and experiences.
Designer and expert Helga Moreno says in her article – The gap between UX and UI design:
"Something that looks great but is difficult to use is exemplary of great UI and poor UX. While something very usable that looks terrible is exemplary of great UX and poor UI."
Pursuing a program in UX and UI definitely fetches good results. This is like an add-on to your present skill set. These are also very important skills for your ongoing and emerging business ideas to ensure that you are on the right path of digital design. With understanding the full purpose of UX and UX, optimistic results flow and this is very important for your business.
UI and UX developers give their contribution to the design process in strategy and content, wireframing and prototyping, and execution and analytics. In this process, UI and UX developers, work through competitor analysis, customer analysis, user research, product structure, strategy, content development, wireframing, prototyping, testing and iteration and development planning, coordination with UI designers, coordination with developers, tracking goals and integration and analysis and iteration.
Execution and analytics
Coordination with UI designer(s)
Tracking goals and Integration
Analysis and iteration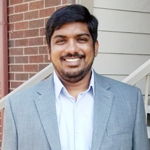 Name: Bharath Kakkireni
Director – KBK Business Solutions
Bharat Kakkireni is a passionate software developer and engineer with over a decade of experience both in India and the U.S. He has been working on many multifaceted IT projects helping local businesses and also collaborates with MNCs in developing software projects. He's an active team leader in KBK solutions. He imparts training, mentoring, and leads teams towards high end efficient working systems. Bharat keeps himself busy in reading, writing and Internet marketing.