We keep hearing UX and UI most often and we also understand that these are referred to many aspects and not just limited to website design, app or software. But there's one thing that must be clearly understood. That is, there is a major difference between UX and UI.
User experience design or UX nd UI stands for "User Interface design". When it comes to the management of a product, both are equally crucial to work together. Whereas, they have different roles to play referring to different aspects in product development process and the design discipline.
Overview about UX/UI design services
The term first used by Nielsen Norman Group Design Consultancy, the term "User Experience" or UX was used in the early 90s and it was defined as –
"User experience encompasses all aspects of the end-user's interaction with the company, its services, and its products." – Nielsen Norman Group Design Consultancy –
This vividly clears a fact that UX applies to anything that pertains to experience – website, a vending machine, a visit to a shopping store or an e-commerce website, its all about your experience.
Particularly when it refers to UI UX design website, many elements that shape the experience are considered. For example – a UX designer takes a thought about how the experience makes the user, feel, and how.it enables to accomplish their tasks that they wish to achieve.
This relates to e-commerce shopping experience like checkout, using an app (UX UI design app) or using making payment with banking app etc.
UX Designers Role in Designing
The goal and objective of UX UI design agency is to create easy, efficient, relevant, and consistent experiences to the users across their journey. With this in view, they have to process, develop and improve the quality of interaction between users and all facets of their engagement.
Using UX and UI design software and other tools, UX designers have to exclusively work on the designing part in order to focus and give a feel of the user experience.
UI (User Interface)
When it comes to the aspect of UI (User Interface) it is focused on the optimisation of a product for effective and enjoyable phase, where User Interface design is a complement. For example – look, feel, presentation and interactivity of a product. It is entirely a digital term. It is the point of an interaction between user and a digital device or a product.
Like for example – a touchscreen on your smartphone, or the touchpad you used to select what kind of pizza you want from McDonald's app. This is again explained as the look, feel, and interactivity of the product. Every visual and interaction element is carefully considered when it encounters a user.
Explaining as – a UI designer will also think about buttons, colors, spacing, images, and other responsive design.
Similar to that of UX design (User experience design) , User Interface design is also a muti-faceted and quite a challenging role. It takes the responsibility of product's development, research, content, and layout into an attractive, guiding and responsive experience for users.
Differences between UX and UI
UX UI design agency works with a wide pool of applications, website development and other designs. During this process of product design and development, UI and UX design considers the differences while applying the principles of UX and UI.
During this phase, it is notifying – User Interface design is a purely digital practice taking into consideration- the visual, images, and colors and all about interface of the product.
It transfers the visual assets and its strength to product's interface ensuring consistency, coherence, and gives aesthetic presentation.
Another example to clearly specify the difference between UX and UI is:
Consider the human body – bones represent thr code which provide the structure whereas organs represent UX design, measuring and optimizing against input for supporting life functions. Whereas UI design design represents the cosmetics such as senses and reactions etc.
UI and UX design work in this form of operation which means while signifying the main differences , both are put to its work collectively for product management. Similarly the UX UI design app. Explaining it much more simply – a great product experience starts with UX followed by UI whereas both are essential for the success of the product.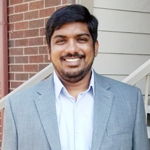 Name: Bharath Kakkireni
Director – KBK Business Solutions
Bharat Kakkireni is a passionate software developer and engineer with over a decade of experience both in India and the U.S. He has been working on many multifaceted IT projects helping local businesses and also collaborates with MNCs in developing software projects. He's an active team leader in KBK solutions. He imparts training, mentoring, and leads teams towards high end efficient working systems. Bharat keeps himself busy in reading, writing and Internet marketing.