Have you read about web application development earlier? Well, let's find out one more time.
Web application development is a process involved with building a web application. While focusing and interacting on browsers rather than the standard engineering process, web application development involves defining a problem, testing a solution, engaging users, adopting a framework and finally building and testing the web application.
PHP web application development company has an adequate and most advanced skilled team who work on web applications.
A Web app is an interactive computer program, built with web technologies (HTML, CSS, JS) that stores (Database, Files).
These are put to use by a team or a single user to perform different tasks over the Internet.
Web application development company works on custom web application development jobs that requires some of the prerequisites to make a data-centric web app and it is important to understand:
Important prerequisites are:
Python and Ruby for example work as a backend language to control how your web app works.
HTML, CSS, Javascript work for web front end and give a look and feel for your web app.
Devops deploy and host your web app.
There are four stages in web application development.
Web application development company in Hyderabad takes up the steps as:
Ideation stage
Prior to the preparation of web applications, you must first take up your ideas, purpose and most importantly what is the usability.
Choose an idea which interests you and thereupon start building web application and this being a skilled job, it is taken up by a web application development company.
Processing the idea, some find it as a difficult process. Work on a plan with the following questions:
Estimated time taken to build app
Interests attached
Guidelines considered
All about likes in building apps
Time taken to save and generate app
What are the areas of improvement with the app
Consider best ideas among the chosen ideas
Market Research
Check with the market research whether there are any similar products and if there's any market for that.
Did you know one of the top reasons that a startup fails is due to product-failure to fit into a market.
You can use Google to research the product and get all the information about the new product, competition, market analysis and much more.
Patent and trademark search checks whether any trademark is already registered that is similar to your trademark, related products or services etc.,
Betalist helps you to discover some of the top trends in startups.
If a similar product is already existing, it only suggests that somebody else got the same idea and they become your competitor.
If you wish to continue, you can still do, or else work on a new idea.
There are also other strategies to aim at the target market.
Explain your idea to forum members and seek their suggestions and recommendations.
If you test your idea in Google Trends, you are likely to get a lot of sources of information.
Upon finding a product, you can check with an SEO tool using MOZ and Ahrefs, Google's keyword planner and write a list of keywords relating to your web app.
If your SEO keyword tool is indicating a specific keyword and is actively in search by audiences, it is a small indicator that you have a target market.
Get feedback as much as you can by attending online events and social media to present your idea to your target market.
When you arrive at a decision that there is surely a specific market for your product, you can go ahead and start working on further stages.
Must Read : Important Web Application Automated Testing Types and Tools
Design stage
Web application development company in Hyderabad takes up the next step of design stage and this phase involves the following steps.
Sketch of web app
Plan of workflow
Wireframe the UI
You can use the following tools for the purpose of wireframe.
Sketch
Invision Studio
Adobe XD
Figma
Balasmiq
Seeking early validation
Development stage
When all the pieces come together in this stage, following these steps:
Architect and build your database
Build database
Database types – SQL
Document Database
Segregate your data
Secure the database
Build the frontend
Build backend
Launch stage
Host web application
Deploy web app
Examples of web applications
When you come across some of the popular web applications, you use them almost everyday in your working and these are:
Created in 2012, Google docs is a very popular web application and is available on mobile and the web. It gives plenty of access to create, edit, read, update and delete documents.
Also called as online Excel, Airtable is a powerful database business solution.
Rated as #1 SaaS product, Salesforce is a very complex CRM that comes with plenty of features like dashboards, tables, charts etc.,
Mailchimp was created in 2001 and has grown to be a very popular email marketing tool and is highly recognized as a multifaceted web application with easy-to-use UI.
Summarizing the whole process of web application development process, basically, you need to assess and identify the problem you wish to solve and develop a solution.
Figure out the web application development set up and organize your workflow. Next step is to transform your workflow into a prototype and obtain feedback. Select plenty of web application tools to construct with the help of web technologies such as HTML, CSS and JS. This is followed by database, frontend and backend development. Finally assess and analyze the web application for its functionality, usability, security and overall performance. As a last step, you need to host and implement the web app and hosting means you will run your web application on a server.
Irrespective of complexity, size or features, it is important to breakdown web applications into simple operations and
Regardless of complexity, size, or feature set, break down web applications into these simple operational mechanics. Web application development company keeps a track of UIs and websites, provides developers with the tools and works on the first version to focus on behavior, look and feel. Thus, the working of web application development company in Hyderabad takes up web application development tasks methodically and completes the successful hosting of web applications as per your requirements.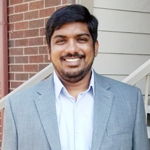 Name: Bharath Kakkireni
Director – KBK Business Solutions
Bharat Kakkireni is a passionate software developer and engineer with over a decade of experience both in India and the U.S. He has been working on many multifaceted IT projects helping local businesses and also collaborates with MNCs in developing software projects. He's an active team leader in KBK solutions. He imparts training, mentoring, and leads teams towards high end efficient working systems. Bharat keeps himself busy in reading, writing and Internet marketing.