Did you get some time to click through WordPress websites recently? They are so beautiful and attractive just to take a glance. If you are a tech-savvy, you are more than happier to wonder how wonderful it feels to take a view of these awesome WordPress websites and did you also know that WordPress website designs have been growing in its popularity? There are more than 3500+ GPL-licensed themes for WordPress.
WordPress is blessed with millions of themes for your use.
Superb! Right!
Because, you have plenty of choice and scope to pick one of the best for your online presence.
# 1. The Unique Benefit of Language Packs
WordPress website templates, are incredibly powerful with plenty of special features that come as integrated features allowing you to just start using them. Like, SEO, Ad sense, Yoast etc. which are tiny html codes available as plugins.
But the biggest advantage is – there are 1166 themes available with language packs. This means in your native language, in the respective region and demographics, you can pick your language pack and use the theme along with the language pack benefits that come with WordPress.
Isn't this wonderful? Sure, you'll agree.
Your business website launched in your language can have a better reach for your audience, so that they are able to click through your WordPress website and browse the content and receive the benefit.
Particularly, if you are selling products, it creates a better gateway functionality to make purchases online easily.
There are plenty of themes available for premium purchase as well. One of the finest and very reliable source us Theme forest which is one of the largest commercial theme storehouse which has more than 8600 themes for sale.
With so much of benefits attached, sure you'll try this feature next time.
#2. Brief view of WordPress theme
For the purpose of WordPress website designs, a theme is a collection of templates and style sheets that are used in the appearance and display of a WordPress website. Some of the highlights of this usability are – easy-to-change, manage, add more features from the WordPress admin area under the section >> Appearance >> Themes. There's a stack of free and paid WordPress Themes for you to select from.
So, there you have – In WordPress theme development, a template defines and this is generated by WordPress theme.
For example – WordPress themes have some default templates with code to generate HTML output for specific sections of a website.
– Index.php – Displays main page of the website
– Heahder.php displays the header section
– Sidebar.php works for side bar generating HTML output
– Footer.php displays the footer section
– Functions.php has a code and functions to be used in a theme
– Single.php displays a single post page
– Comments.php displays comments and comment form.
Now you know that a template is a page layout that's available in a theme. A template is a single page layout. Whereas a theme is the design of your whole website.
#3. The high end skills in WordPress Development
Website design developers have some of the finest skills in having an indepth understanding about WordPress website designing. How to arrange menu pages, the colors, fonts, images and all other functionalities of your website is clearly done very well by WordPress developers. This includes both from the perspective of designing and using the code. This results in the high profitability of the finest creation of end product WordPress Website.
#4. Benefits from WordPress Website Templates
Due to its highly affordable and customized-driven benefits, WordPress website templates have acquired not only incredulous success, but also have expanded its popularity in several areas like in building blogs and e-commerce applications etc.
With several requirements coming from small business to work from home businesses that ideally derive the benefit of WordPress web design services from WordPress website Design Company and this has already proved to be a valuable key benefit in website design and development.
#5.Key Benefits PHP
When it comes to the aspect of choosing a platform, you would also think about other costs involved in it like cost, affordability, long benefits etc.
Whereas WordPress brings you:
– Easy and affordable that range from an easy budget (Rs. 3000) to high budget (Rs. 50,000) that perfectly fits in your requirements.
– You can easily customize with free themes, which means you can arrange and organize whichever way you wish to.
– Content Management is so much easier to do – editing, uploading, deleting, add photos, videos, text, code etc.
– User-friendly feature allow you to start off easily without having prior knowledge.
– Mobile-friendly feature gives you access to browse and navigate your website on your smart device mobile phone which has become so handy as a hand-held device.
– The future of web design is better with WordPress ls theme than investing in custom.web design.
Conclusion
This is just a perfect time for your website to get launched as millions of small businesses with hundreds of business ideas get online marketing with WordPress websites. Selling your services might not be easier than with a perfect and neat WordPress Webdesign templates.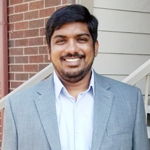 Name: Bharath Kakkireni
Director – KBK Business Solutions
Bharat Kakkireni is a passionate software developer and engineer with over a decade of experience both in India and the U.S. He has been working on many multifaceted IT projects helping local businesses and also collaborates with MNCs in developing software projects. He's an active team leader in KBK solutions. He imparts training, mentoring, and leads teams towards high end efficient working systems. Bharat keeps himself busy in reading, writing and Internet marketing.