In the present day world of business management, investment, expenses, cost management, manpower and operating expenditure and there's much more. To make everything streamlined that works as a smart process with high-end efficiency, you have to have management techniques. One such technique comes from BPO services. It is similar to finding an efficient vendor who can work for you and do the best job who exceeds your expectations.
1. Is this About Business Process?
Absolutely. The type of BPO services provider, their functioning, goals they achieve, cost-cutting and how advantageous the services are going to be for your future business plans, are some of the crucial areas that you should work upon.
BPO Management services in India – can be explained as a practice of contracting a specific work process or processes to an external service provider.
Some of the highlighting services of BPO services provider are –
Payroll
Accounting
Telemarketing
Data recording
Social media marketing
Customer support- Much more
These business functions, with services can be either technical or nontechnical.
There are two main types of BPO outsourcing services – back office and front office. Back-office services include internal business process, such as billing or purchasing. Front office services is connecting with company's customers, in the field of marketing and tech support.
There are three main categories of BPO industry are –
Offshore : Vendors operate from outside of company's own country.
Nearshore : Vendors are located in countries neighboring the contracting.company's country.
Onshore : Vendors operate within the same country, but may be located in a different city or state.
2.Why BPO Services Industry is a necessity?
The term BPO emerged from the U.S. as a means of outsourcing which brings many benefits to businesses such as decreased costs, lowered income tax , cost saving, and such other many benefits.
Depending on the country, the costs of operating a business may vary along with governing laws. Due to this cost variation models, like fee-based service, fixed costs etc. BPO companies are hired.
The costs involving labor, staffing, training, work space, premises and other key functions such as – setting up a competitive edge for customer satisfaction, quality supply chain and such other, like – to increase profits and prove to be service-driven company, BPO outsourcing services are considered.
Among other benefits – to expand global presence, better performance by facilitating world-class capabilities, specialized processes, technologies and cutting-edge breakthroughs, top BPO outsourcing services are chosen.
Speed and efficiency which is among the top requirements for companies that outsource processes – BPO outsourcing services come right at the place thereby leaving a better scope for specialists to handle tasks, thus saving time, improving accuracy and increasing their capacity.
3. Advantages with BPO Skills
BPO companies in India offer a wide range of services, support and help fill many gaps. Industries in healthcare, pharmaceuticals, energy, business services, retail, ecommerce, telecom, automative, banking, supply chain, asset management, utility companies have specialized BPO staff who can handle efficient operations with their trained skills.
Some of the sub-specialities of BPO are:
BPO services company in India are categorized into – Information technology-enabled services (ITES) BPO which leverages information technology (IT) over the Internet or data network to deliver services.
Knowledge process outsourcing (KPO) vendors operate as experts in a specific domain. This includes – research, analysis, Microsoft word, Excel etc. Further KPOs are also capable of making low-level decisions and sometimes vendors are linked to business value chain and they hire people who are absolutely competent in a specific field.
Others are-
Legal Process Outsourcing (LPO)
Research Process Outsourcing (RPO)
Travel
Customer Interaction Services
Back-office transactions
IT and software operations
Finance and accounting services
Human resource services
– Knowledge services
The U.S. which is a hub of outsourcing in BPO Management services would grow upto a worth of $140.3 billion by 2022 as per Statista Report and India being in the main lead for U.S. for BPO services due to its skilled labor force who are educated, English-speaking and economical.
Conclusion
However, there are some precautionary measures that must be taken that include – security, data privacy, disclosure vulnerability and breach of trust that may pose a major threat. Both the contractor and the vendor come to an agreement about these risk areas to safeguard and protect the confidentiality and trust for handling sensitive data. If these aspects are well administered and well taken care of, the future of BPO industry would be very safe.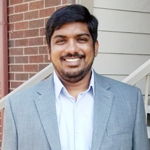 Name: Bharath Kakkireni
Director – KBK Business Solutions
Bharat Kakkireni is a passionate software developer and engineer with over a decade of experience both in India and the U.S. He has been working on many multifaceted IT projects helping local businesses and also collaborates with MNCs in developing software projects. He's an active team leader in KBK solutions. He imparts training, mentoring, and leads teams towards high end efficient working systems. Bharat keeps himself busy in reading, writing and Internet marketing.